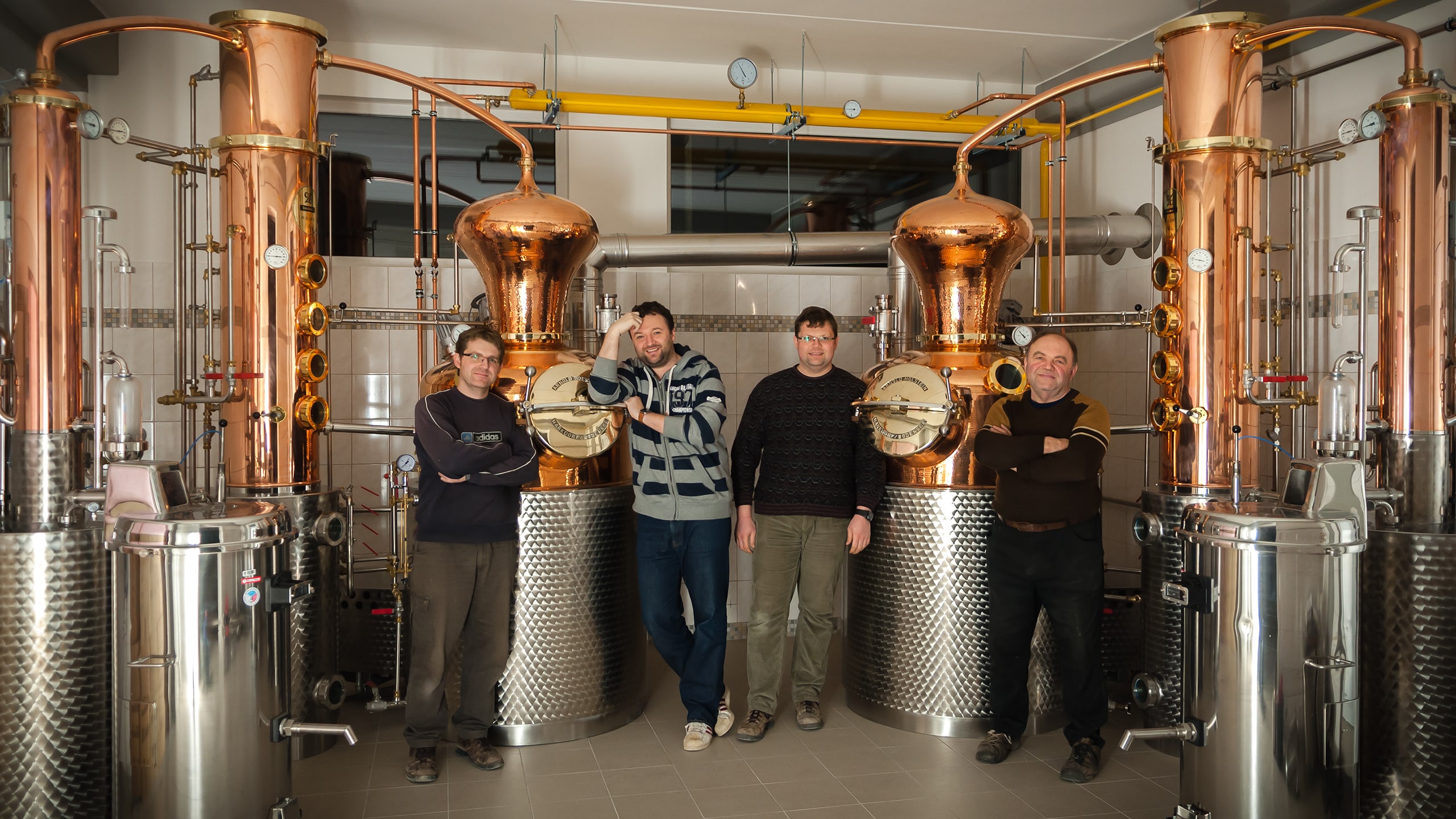 Jan, Martin, Josef a Josef Žufánkovi.
People
ZUFANEK s.r.o. was founded by Marcela and Josef Žufánek and their sons Martin, Josef and Jan in 2000. It's based in the village of Boršice u Blatnice near Uherské Hradiště, Southern Moravia, Czech republic.
Our own orchards, surrounding the production site, are located in one of the best locations for fruit cultivation in Moravia. The fruit is used to produce delicious and fine brandy with distinctive aromas and flavors influenced by the local microclimate and soil of the nature conservation area of the White Carpathians. For the production, we use modern distillation equipment.
All products are 100% natural, made according to original proven recipes without any artificial colors, flavorings or aromas. We distill, macerate and create distillates we like – final products we can be really proud of it. That's why all the spirits and liqueurs bear our names.
We trust that you will enjoy them just as much as we do.
Orchards
Our orchards are located in one of the best locations for growing plums (Moravian Slovakia) with a favorable microclimate and soil at the foot of the White Carpathians. The orchard area amounts to 15 hectares and it's under organic farming. We grow eight varieties of plums that ripen from July to September.
Čačanská plums ripen first; Stanley and Anna Späth plums last. We also grow Williams pears, Green and "Graf Althanns" greengages and Oblacinska cherries.
We have gradually expanded the orchards to include aromatic and medicinal herbs, mainly for our absinthes.
Characteristics of the site
Terrain: Moderately sloping 8-10%
Land: medium heavy brown soil
Exposure: southeast, southwest
Elevation: 340 meters above sea-level
Average annual rainfall: 730 mm
Average growing season temperature: 15.1° C / 59.2° F
Average annual temperature: 8.9° C / 48° F
Herb gardens
artemisia absinthium
artemisia pontica
artemisia umbelliformis
hyssopus officinalis
melissa officinalis
veronica officinalis
dracocephalum moldavicum
Distillation columns
The heart of the company is the distillery with four distillation stills, each of 300 liters.
We have started our distillery production with one still manufactured by Destila Brno. As the production grew, we bought a second one in 2011. Since 2013, we are distilling our beloved gins which quietly made us get something special.
The special equipment is made by none other than Arnold Holstein, the legend in the distilling industry and the producer of the finest stills in the world for more than 50 years. They are unique because they can keep more of the flavoring substances from the distilled raw materials than other stills. Distillation is more sensitive, the rectification plates more elegant, and the alcoholic vapor has more space to slowly get to the cooler.
Distillery
The entire company occupies an area of 3,500 square meters and consists of three buildings. Besides the distillery and the cellar, there's the expedition, warehouse, herb drying kiln, archives, tasting room and fermentation plant. The construction started in 1992 and the last part, the extension with an expanded distillery and warehouse, was completed in 2016.