Private brands. The first thing most of you will recall are the cheaper foods offered by every supermarket chain. We have them as well. But on a completely different level.

This is my summary of this year's work and projects we are really proud of.
It all began with Pavel Varga. The owner and founder of L'or Special Drinks. He was the first and only distiller in the Czech Republic who did not consider us a threatening competition when we started our business. He treated us with professional respect. And it was him who ordered our Beer Schnapps for his Russian customers in 2005.
During the 1990s, Pavel was probably the largest producer of absinthe in the world. In 2007, when we distilled the first batch of St. Antoine – the first absinthe in our assortment – not only did he not curse us for doing so, but he was sincerely happy and supported us. And when he opened the first Absintheria in Prague in 2010, our absinthes were there right next to his own. I can't even imagine other Czech distillers offering products of their direct competitor. Especially if they are not bound by blood, ownership or financial matters.
And the very same Pavel, who can make as much absinthe as he wants, ordered a custom-made exclusive product from us. The reason was he trusts us and knows we are better at making absinthe than just about anyone. This particular batch is not for sale yet as it is still aging nicely. But they will start selling it soon and I will be the first to buy a bottle as we ourselves didn't keep any.
Pavel, you're the man!
Our work continued with an amazing project for the Le Valmont Club & Lounge, a bar with the spirit of a Paris cabaret, opened this year. Jarda Janoušek, their head bartender, asked us to create their very own gin.
The only requirement was for it to not be too flowery or citrusy. And so we created Le Gin Occulte, a sinful gin whose aroma and taste will take your mind to a luxurious 19 th century brothel in Paris, or brasserie à femmes, as they used to call it. It is spicy and piquant. Just like when a dominatrix spanks you with a whip. Exactly as you like it.
The gin became such a sensation that we managed to sell the entire year's batch in six months. We distilled a second batch in November. Twice the volume.
On top of it all, Le Valmont won two categories of the prestigious Czech Bar Awards – the Best Club of the Year and the Best New Establishment. So who knows what will happen to the double batch.
We also did a fantastic distillation for the legendary Bugsy's Bar owned by Václav Vojíř.
We decided on a gin which would mirror the DNA and atmosphere of the bar. Therefore, every bartender picked one favourite herb that would represent him. For example Václav Vojíř picked pink peppercorn, Honza Braniš picked jasmine, Honza Teska picked fresh grapefruit zest and so on.
We proportioned the herbs, added our signature juniper and other spices to make it crystal clear who'd made it and where it came from.
The resulting Bugsby's DNA gin was first tasted by the bar team on 15 November 2016 and it was a success. I don't know if I am allowed to write about this and I'm not sure if they invite me over ever again but I'm going to write it anyway. Sorry, blokes.
On that day, Bugsby's Bar hosted a gin tasting for a certain respected magazine about wine and spirits. There were 24 gin samples to be tested and the jury consisted of bartenders, gin distributors and gin producers. I brought the first two bottles of DNA gin, hand-bottled just a couple of hours before the event. Other than me, nobody had drunk the gin ever before. The jury was handed numbered samples during the blind tasting and nobody knew which brand had which number.
Bugsby's DNA gin won.
But Václav is a man of principle and decided to withdraw from the competition. Well, it would've looked staged if the Bugsby's DNA gin won a tasting hosted by the Bugsby's Bar. But it wasn't.
Many thanks to you, Václav, and the entire Bugsby's Bar team!
Just a couple of days before the end of the year, we managed to bottle this year's last custom order. It was for another Prague legend, Aleš Půta and his Hemingway Bar. This co-operation can actually be traced back to 2012.
Just like the Prague Absintheria pioneered genuine distilled absinthes that you can buy straight on the street whenever you feel like it, Aleš pioneered genuine distilled absinthes in a bar environment.
When he opened the Hemingway in October 2009, absinthe was a cornerstone of the menu. And from there it spread to other bars. Bartenders and guests discovered that absinthe was not that crazy chemical thing with a burning sugar cube, but that it was actually served with a beautiful water fountain.
In April 2016, 4 years after the initial idea, the blokes from the bar paid us a visit. They helped us rub wormwood and assisted in creating the recipe. Recipe I made up on the spot, right in front of them. Recipe I didn't write down and can no longer remember. It happened at that very moment and nobody will ever be able to replicate it. That's how the unique Hemingway's Six Fingers Cat Absinthe No. 1 was made. Number 1 means that we'll be distilling the second batch shortly. Completely different from the first one. And just as unique. Created during their visit. And next batch during the next visit. I wish for Aleš's children to come and visit our children, who could then distil the Hemingway's Absinthe No. 99 for them.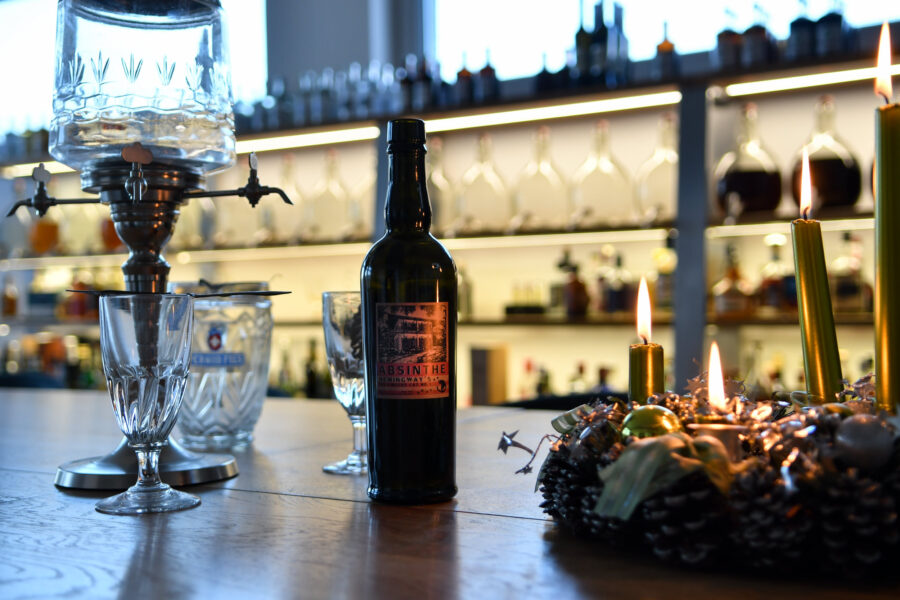 We are happy to be trusted by bartenders and people in the field. They know we would never create anything for them that would be worse than our own products. All of our custom-distilled products are just like those we would choose ourselves.
And this is how it's supposed to be.